Testimonials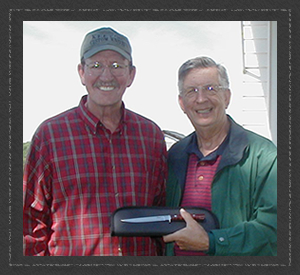 I have had the pleasure of creating knives for hunters and collectors around the world. Some of my clients have included General H. Norman Schwarzkopf, "Tubby" Smith, "Fuzzy" Zoeller, John Daly, "Chi-Chi" Rodriguez, Hubert Green, Paul Azinger, and jockey Pat Day. Below are some of the kind responses from satisfied customers.
The photo to the right is of a man named Otto Keeton and me. His son bought him the knife shown because my name (Keeton) in the Knifemakers' Guild list just jumped out at him. He and his son came down from Ohio to pick it up, and his dad had no idea he was getting it. It was a gratifying experience and situations like this are what drive me to continue making knives.

"Thank you very much for the gift of your spectacular knife. It is an absolutely exquisite work of art which I will treasure forever. I am very pleased that I was able to meet and thank you personally.
The knife and beautiful presentation case will always hold a place of honor in my home. Thank you again for your gift."

~ H. Norman Schwarzkopf (Former Commander in Chief, United States Central Command)

"I first met Bill Keeton some 10 years ago at a knife show in Louisville, Kentucky while he was still a part-timer. Even then his knives showed outstanding workmanship and attention to detail."
~ Butch Winter (Combat Knives Magazine)

"This wonderful knife gets used on fishing trips, as well as in the kitchen, and dining room. It is so nicely balanced and easy to handle, and in over a year of use I have never yet even had to sharpen it. The quality and beauty is outstanding. Bill, you are a true craftsman."
~ Otto Keeton (Ohio)

"I bought a small patch knife from Bill and plan to get one of his hunters. It's the best knife I've ever owned, mass produced or custom made. The quality and sharpness are top-notch."
~ Mark Frazier (Lanesville, IN)
*Quoted by Joe Bergman "Clarion" newspaper

"Thank you very much for your excellent service and product. I have purchased several custom knives from you, some for myself and some for gifts, and all have been of excellent quality, and you have always acted with the highest integrity and honesty.
[My flexible fillet knife] is the best and sharpest fillet knife I have ever used and it is holding its edge remarkably well. It still does not need sharpening, even after cleaning probably 20 yellow fin tuna and 20 mahi mahi. A dock hand I hired to clean my fish once complained that he cut himself because it was too sharp, but he always asks to use my knife when I am too tired to clean my own fish."
~ Dave Holobaugh (Floyds Knobs, IN)

I bought my first Keeton knife from Bill in 1980. I was very impressed with the quality and workmanship in that knife, as well as the outstanding job Bill had done making the sheath. In 1981, I designed a knife with the characteristics I wanted in a hunting knife that would work equally well on a squirrel or a whitetail deer. Bill built the knife for me and a second one which I gave to one of my sons.
Both of these knives have exceeded my expectations. It is 28 years later and these knives are performing as well today as they did when Bill first made them for me. You would not recognize the one my son uses as he has honed the blade so many times, but it still makes short work of a deer from the time it is on the ground until it is in the cooler. I know of 4 deer my son butchered last year. There was a large selection of knives available, but the knife he chose to use was the one Bill made for me so many years ago. What better testimony to a knife is there than that?
Bill has made a number of knives for me over the years ranging from hunting knives and steak knives to a sub-hilt fighter and a Bowie knife with ivory slabs. Every one of these knives without exception would stand up in workmanship, quality, and materials with the best of the best makers over the last 30 years. In addition to outstanding knives, Bill makes a sheath to fit each individual knife that will rival the best sheaths available from any other knifemaker I am aware of. Needless to say, I am very impressed with Keeton Knives.
~ Frank Korb (Lexington, KY)

I remember a saying from my old high school Latin classes – "Non multa, sed multum," which translates to, "Not many, but much," or the more modern translation," Quality over quantity." That pretty much sums up any of Bill Keeton's knives. Each made by a man who still takes old fashioned, painstaking pride in his art and his craft. Their fit, finish, and function are as near perfection as is humanly possible. Beautiful, functional knives, hand made of the finest steels, with appointments appropriate to their function. Each is sure to be an heirloom.
~ Dr. Bob Lega (Clarksville, IN)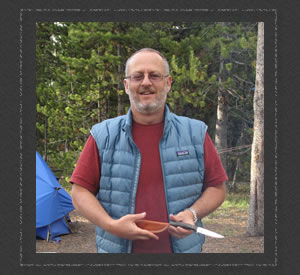 Bill's knives are incredibly well made, and feel great in your hand. You just feel like you are holding a perfectly balanced, precision tool. I am so impressed with the quality that I've purchased additional knives when I needed important commemorative gifts.
~ Paul Eichen (founder of Rokenbok)


"The quality of the "Foolish Pleasure" knife far exceeded my expectations. The finish was superb. The accompanying pouch was a nice addition, too. I wouldn't hesitate to purchase from you again."
~ Greg N. (Australia)